BRAZIL'S PANTANAL
AN UNFORGETTABLE WILDLIFE EXPERIENCE IN THE WORLD'S GREATEST WETLANDS
10 DAYS | 09 NIGHTS
October 12-21 2019
Join Jim and Kathy Stamates on an exciting Photography Expedition to Brazil's Pantanal in search of the elusive Jaguar. Jim and Kathy have teamed up with Brazilian biologist and wildlife photographer Daniel De Granville. Daniel has lived and worked in the Pantanal for 20 years. His extensive knowledge of the Pantanal ecosystem will give us our best chance of bringing back incredible images of many species of birds and wildlife including the JAGUAR!

 
October 12-21 2019


Cost: $6,950


Single Supplement additional $400
$1000 deposit reserves your spot. CLICK TO RESERVE NOW


(Minimum 6 Maximum 8)
This will be an amazing adventure searching for Jaguars and other exotic species. Giant River Otters, Tapir, Capybara, Caiman, Giant Anteaters, and so many tropical birds, including the Hyacinth Macaw, you won't know where to point your camera first!
Brazil is the land of diversity. Let alone the country's fascinating cultural variety, here is also where the world's highest biodiversity comes together. Superlatives could easily fill several lines of text, but it is enough to say that the country harbors the largest areas of tropical forests, ranks as #1 in primate and amphibian species, and with its 1919 birds is second only to Colombia in avian diversity. Therefore, it is no surprise that Brazil is the highlight of all 17 Megadiverse Countries listed by Conservation International.
Your Adventure explores Brazil's smallest, yet best preserved biome: the Pantanal. Every year the water cycle causes dramatic changes in what is considered the world's largest freshwater wetlands, comprising an area about the size of the state of Kansas. A dry, harsh savanna during drier periods becomes an enormous marsh during the following months. Thousands of mammals, birds and other creatures come and go following the rhythm of the waters. The region provides a haven for several animal species in a scenario that resembles Africa's wildlife refuges. However, instead of creature such as lions, zebras and giraffes, here the Caimans, Jaguars, Giant Otters and birds including the Hyacinth Macaw, the largest parrot in the world, run the show. Amid this amazing natural heritage live the "Pantaneiros," local people whose peculiar lifestyle is adapted and in harmony with nature's pulses. Leading the expedition will be specialized guides who know the region well and together with local staff will be a valuable and pleasant companion to help you increase your photo opportunities.
In such a vast country, reaching the right spots for the best photography is not exactly easy or fast. However, on our tailor made itinerary every detail is planned in advance, providing the best chances for the best encounters, thus optimizing your time and investment.
[THE PICTURES IN THIS PROGRAM HAVE BEEN PROVIDED BY OUR GUIDE FROM PAST EXPEDITIONS]
DETAILED ITINERARY

: 
(subject to change)
OCT 12 DAY 01

 Arrive in Sao Paulo (GRU) Transfer to Hotel (TBA), Meet the rest of the group and prepare for our big adventure. Overnight
OCT 13 DAY 02
• CUIABÁ TO NORTH PANTANAL (ARRIVAL)
Arrive at Cuiabá Airport (CGB) in the morning. (we will arrange the earliest flight so we all arrive together) This will allow us to enjoy more of this first day in the Pantanal and avoid driving at night. 
Land transfer to Pouso Alegre Lodge (approximately 1h30 on a regular state road until reaching the unpaved Transpantaneira Road, where our wildlife experience begins). The 92 mile long Transpantaneira runs through the Pantanal from north to south and crosses more than 120 wooden bridges. Its elevated lane was built using soil from the sides of the road, forming ditches that concentrate water and attract wildlife, especially in the drier periods of the year.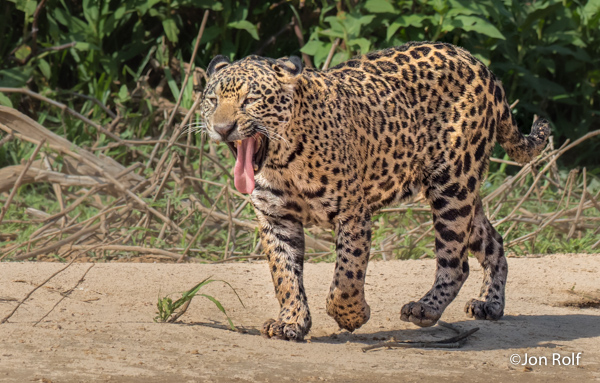 Depending on the time of arrival, we may go on an open truck safari or a shorter walk to watch and photograph wildlife at Pouso Alegre grounds. Besides the famous birds of the Pantanal such as the Hyacinth Macaw, Pouso Alegre is known to offer good chances of encounters with mammals such as the Giant Anteater and the Brazilian Tapir, in addition to lots of Caimans in nearby ponds.
(B, L, D)
OCT 14 

DAY 03

 • NORTH PANTANAL (POUSO ALEGRE)
Breakfast and full day to explore the area of Pouso Alegre on open truck photo safari and/or walking. 
Overnight at Pouso Alegre Lodge.
(B, L, D)
OCT 15 

DAY 04

 • NORTH PANTANAL (POUSO ALEGRE TO PORTO JOFRE)
Breakfast, check-out and drive to Porto Jofre at the end of the Transpantaneira Road. Lunch on the way, always searching for the Pantanal wildlife and enjoying the landscapes along the road.
– Arrival and check-in at Hotel Porto Jofre located at the end of the Transpantaneira, deep inside what has become known as "Jaguar Country" or "Jaguar Land" ("Onçolândia" in Brazil), due to the abundance of these amazing and elusive cats.
If time permits, we will go out on our first boat ride searching for Jaguars and other Pantanal wildlife such as the Giant Otter, Capybara and several birds. In the past years the Cuiaba River and its tributaries became known worldwide for the constant presence of Jaguars, where it is not unusual to have two or three encounters with these big felines on a single day! Sometimes they are just resting, other times they may be hunting for a Caiman or a Capybara. 
Overnight at Porto Jofre Hotel 
(B, L, D)
OCT 16-19 

DAYS 05 to 08

 • NORTH PANTANAL (PORTO JOFRE)
Breakfast and full day exploring the rivers around Porto Jofre by boat searching for Jaguars and whatever else comes by. While at the hotel we may also explore photo opportunities with birds such as Hyacinth Macaws and Toco Toucans, or take a stroll to a nearby lagoon covered with the famous Giant Lilly pads and their beautiful white flowers.
Overnight at Porto Jofre 
(B, L, D)

OCT 20 

DAY 09

 • NORTH PANTANAL (PORTO JOFRE TO RIO CLARO)
– Breakfast, check-out and drive back through the Transpantaneira Road to Rio Claro Lodge. The narrow river that gives name to the lodge is known for offering good chances to watch and photograph water birds such as Black-Collared Hawks, Sungrebes, Sunbitterns and different species of kingfishers and herons  –
Lunch on the way or at the Lodge.
– Afternoon boat activity in the Rio Claro, dinner and overnight at the lodge.
(B, L, D)
OCT 21 DAY 10

 • NORTH PANTANAL TO CUIABÁ (DEPARTURE)
– Breakfast at the lodge, morning boat activity, check-out and drive back through the Transpantaneira Road to Cuiabá Airport. Lunch on the way before you're flight home.
(B, L)
THIS PRICE INCLUDES:
ACTIVITIES:
1½ days (03 periods) of activities at Pouso Alegre Lodge in the Pantanal
4½ days (09 periods) of activities at Porto Jofre in the Pantanal including boat and drivers

1 day (02 periods) of activities at Rio Claro Lodge in the Pantanal
ACCOMMODATION:
1 night at either Sao Paulo or Cuiaba hotel w/breakfast
2 nights at Pouso Alegre Lodge with all meals included;
5 nights in single or double rooms at Hotel Porto Jofre with all meals included;

1 night at Rio Claro Lodge with all meals included.
MEALS:

As described in the itinerary above, whenever mentioned as "included". In the event of not being able to have proper meals due to time restrictions, we will replace them by snacks to take.
TRANSFERS:
1 inbound land transfer from Cuiabá Airport to Pouso Alegre Lodge upon arrival on October 13;
1 land transfer from Pouso Alegre Lodge to Hotel Porto Jofre on October 15;
1 land transfer from Hotel Porto Jofre to Rio Claro Lodge on October 20;

1 outbound land transfer from Rio Claro Lodge to Cuiabá Airport on October 21.
ADDITIONAL SERVICES:
Bilingual guiding services throughout the program;

Location fees, federal taxes and additional staff (drivers, boatmen, local guides, etc).
NOT INCLUDED:
International or domestic flights;
Phone calls, laundry services, beverages, mini-bar items, gifts and any other personal expenses;
Gratuities for local guides or other staff members (drivers, waiters, boatmen, etc);
Any meals further expenses not specified above as "included".
Travel Insurance
JOIN US



Email for more information  CLICK HERE.
A Travel Planner, including how to prepare for your Pantanal Adventure, Pack List, Tip Guide, Camera Gear list, and other important information will be provided. 
Reserve your spot now.
The cost of the Pantanal Expedition is $6,950 per person double occupancy.

Price is subject to change with currency exchange rate.
RESERVE

your spot for

OCTOBER 2019

by sending us an EMAIL TODAY 
Low Impact Wildlife Photography
P.O.Box 550550
South Lake Tahoe, CA 96155

Phone; 530.577.4100
Contact us for details, questions and concerns.