Part 3 of the Grand Teton Adventure 2013
And so it was, once again, a big surprise when we saw a young bull moose running in a bison herd! Another first! Of all the years I've been photographing moose, and bison I had never seen what was about to happen on this fall day in Grand Teton National Park.

Hanging around Elk Ranch photographing pronghorn and bison something caught our eyes. Running toward the buffalo herd at full speed was a bull moose. A quick right, then a left. This moose was as confused as we where, he didn't know what to do. The bison seemed confused as well as the moose got closer. Not knowing what was going on their first reaction was to run away. When they realized it wasn't a bear or wolf they turned to chase the moose out of their territory. The moose ran in all directions attempting to flee. Finally it escaped the rushing bison and turned toward the road and right toward us!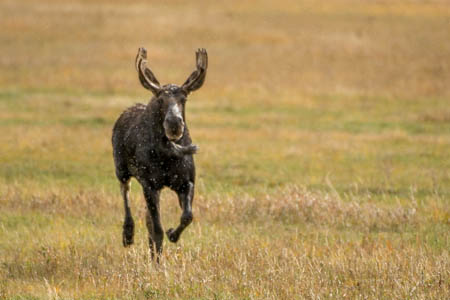 After it ran across the highway it jumped the fence and headed across the field where two horses where grazing. The horses looked as puzzled as the rest of us.
Another first; seeing a moose jump a fence. Usually they just step over it.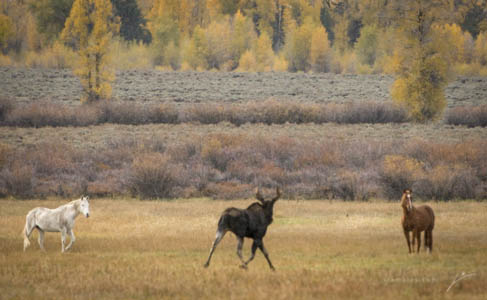 The moose finally made it's way into the trees on the other side of this meadow. I'm sure it was exhausted and found a nice place to rest.